Si vous me lisez régulièrement, vous avez remarqué mon amour pour 1. les gâteaux, et 2. les films de Wes Anderson. Combiner les deux ne m'est jamais venu à l'idée... jusqu'au moment où j'ai vu le film The Grand Budapest Hotel. Non seulement j'ai adoré le regarder (au cas où vous ne l'auriez pas encore vu, je vous le conseille chaudement!) mais en plus il m'a l'eau à la bouche. Les Courtisanes au Chocolat, genre de religieuse à 2 étages, apparaissent plusieurs fois durant le film, et m'ont fait trés envie. Mais bon, pas de recette, je n'ai pas cherché plus loin.
C'était sans compter sur ma copine Abby, qui à découvert la super vidéo ci-dessous. Produite par Wes Anderson himself, ceci est la recette officielle!
La voici transcrite, parce que c'est plus facile quant on cuisine de lire plutôt que de regarder une video (enfin je trouve):
Choux
1 cup flour
1 cup fresh water
¼ # or ½ cup butter
4 eggs lightly beaten in a bowl
a pinch of salt
a pinch of sugar
→ Sift the flour. Next bring the water, butter, salt and sugar to a boil. Remove from the fire and quickly mix the sifted flour. Return to heat for a few minutes, stirring and cook until the dough forms a single lump. Allow to cool just enough to keep the eggs from coking and stir in very gradually with a strong wooden spoon. Pipe the dough into small, medium and large sized dollops on a tray.
Large = tablespoon
Medium = teaspoon
Small = hazelnut
Bake in the oven at 180°C for about 25-35 minutes. The smaller pastries are best put on a second tray, as they will cook more quickly. Remove from the oven and discretely make a small piercing in the bottom of the choux to allow the stream to escape.
Once cooled, the large and medium choux should be filled with a crème pâtissière of chocolate, egg yolks and sugar.
Crème Pâtissière
1 ½ cups of whole milk
Several large pieces of semi-sweet chocolate
3 egg yolks
¼ cup sugar
2 spoons cocoa powder
1 tablespoon of flour
Cornstarch to thicken
→ Heat the milk gently and add chocolate stirring to melt into a rich, almost steaming chocolate milk. Whisk egg yolks, flour, sugar, cocoa and a few spoons of cornstarch into a smooth mixture.
Add half of the hot chocolate milk to the bowl a little at a time, stirring constantly. Then add this mixture back into the rest to of the hot milk, stirring over a gentle heat for a few minutes until the mixture thickens to a custard. Remove from the heat to chill and stir occasionally to help the cooling process. Once cooled, spoon the chocolate crème into a pastry bag and pipe into the large and medium pastry balls.
The Decoration
Prepare a glaze of confectioners sugar, a dash of vanilla and enough milk to achieve the desired consistency. Separate into three small bowls and add food colouring to each.
One lavender
One pale green
One pink
→ Dip each pastry into the icing to the midline and place it on a tray
The large pastry in lavender
The medium in pale green
The small in pink
Allow to dry.
Decorate the balls with filigree of white chocolate as desired.
Place a dollop of icing preferably of a pale blue buttercream atop the large pastry ball. Take a medium size ball and press it gently on the larger so it sticks in place. The buttercream should act as a glue. Repeat with one of the small balls atop the first two. Make a small buttercream "star" on the top and place a single cocoa bean on the star as a garnish.
Serve fresh.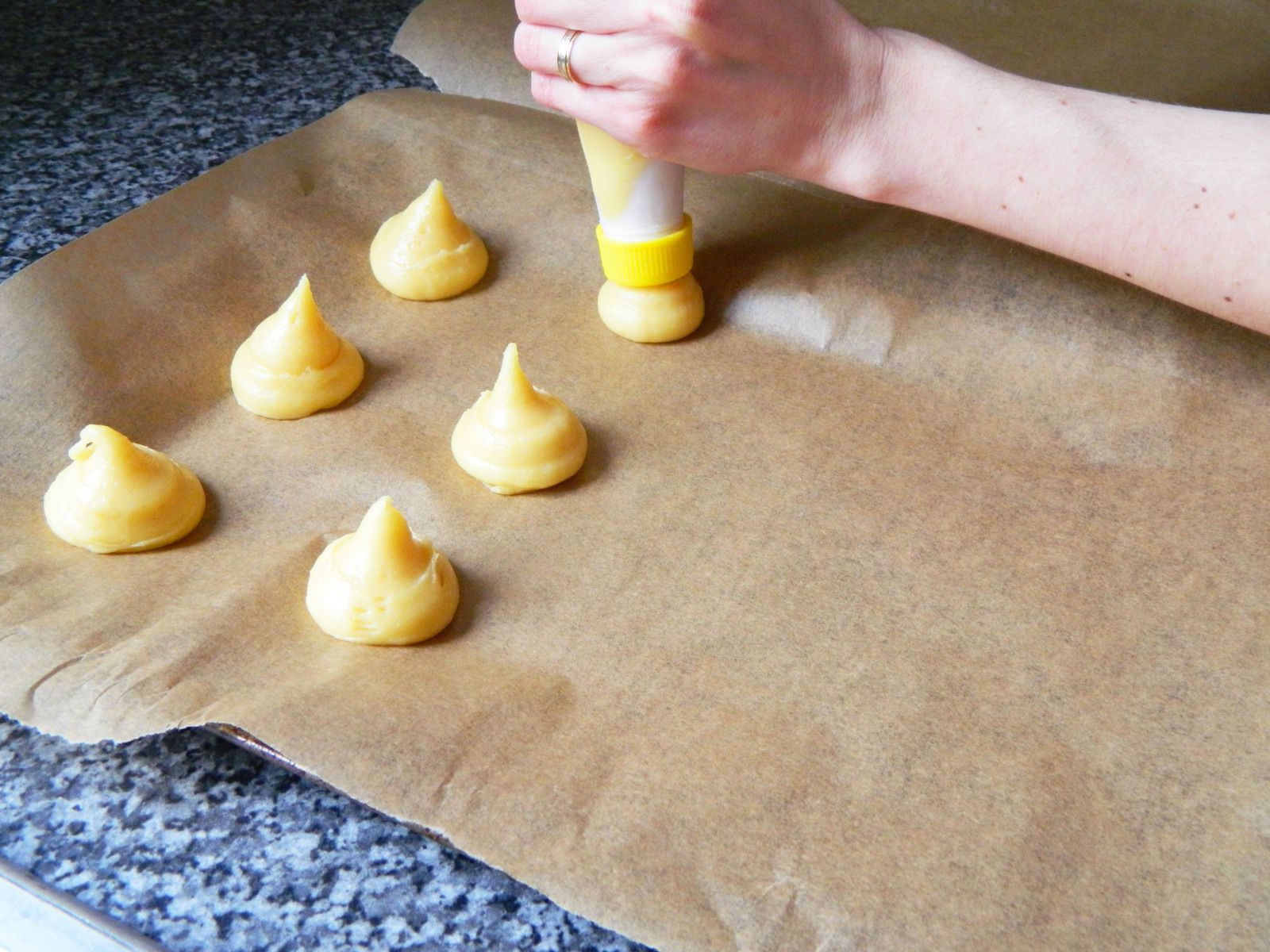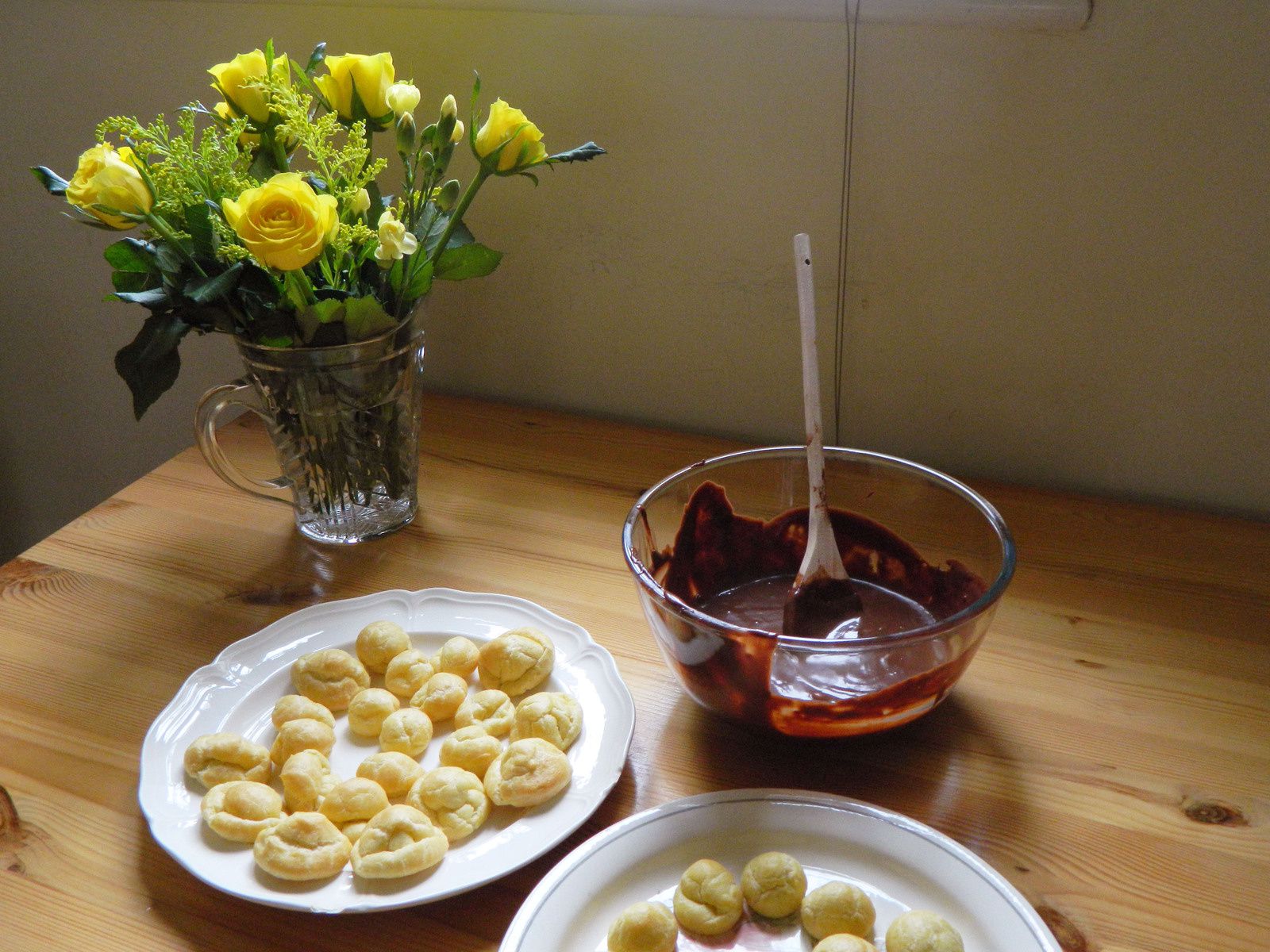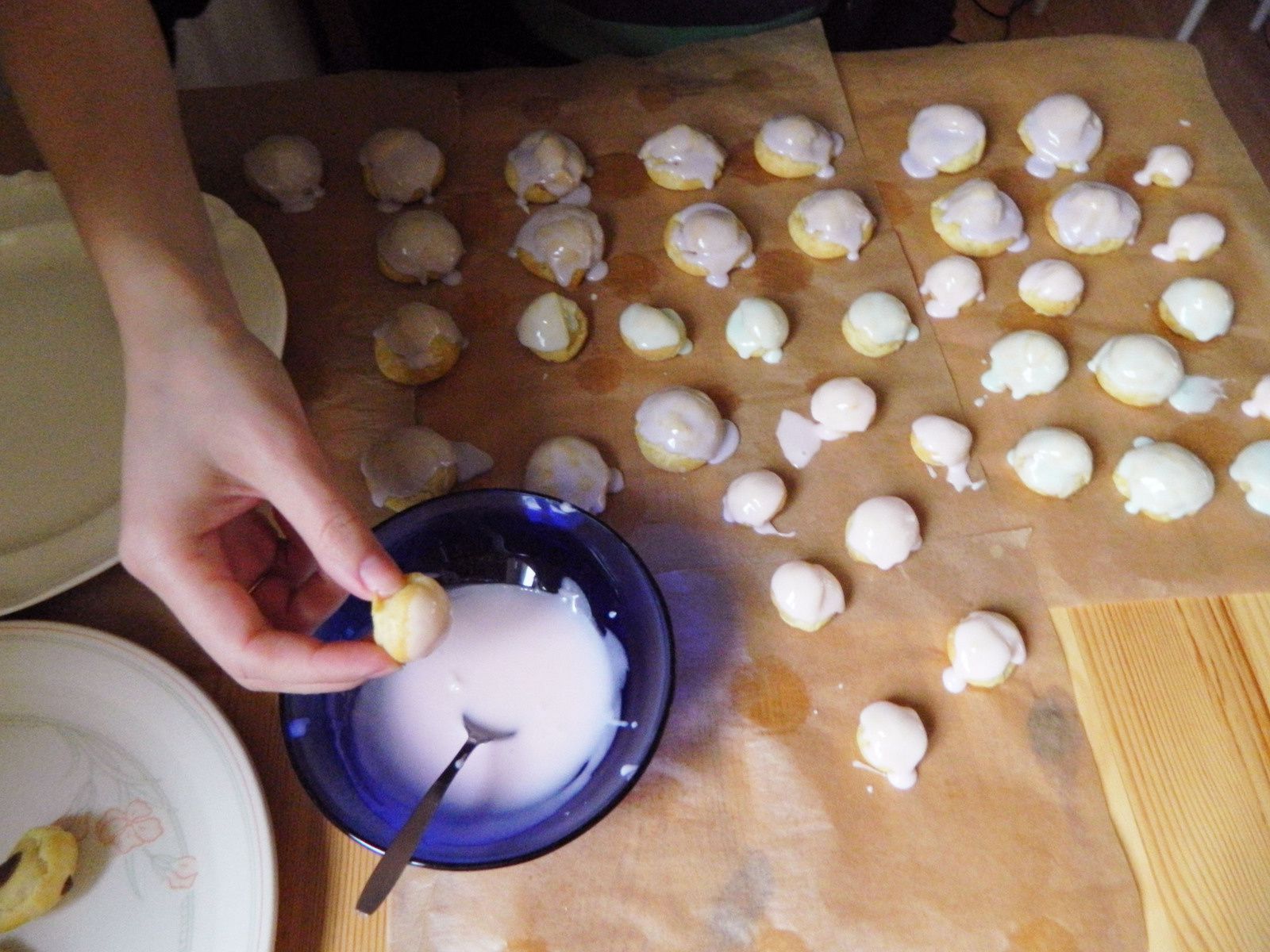 Du coup, aussitôt dit, aussitôt fait. J'ai débarqué chez Abby, et nous nous sommes mises au travail! Alors là, je vous préviens tout de suite, il faut s'armer de patience. La recette n'est pas difficile en soi, mais il y a beaucoup d'étapes. Ca nous a pris 4 ou 5 heures à faire (après 3 je ne compte plus ;)).
Mais le résultat vaut tout le travail de préparation, vous ne trouvez pas?
xx
(photos ci-dessous courtesy of Mademoiselle Abby :))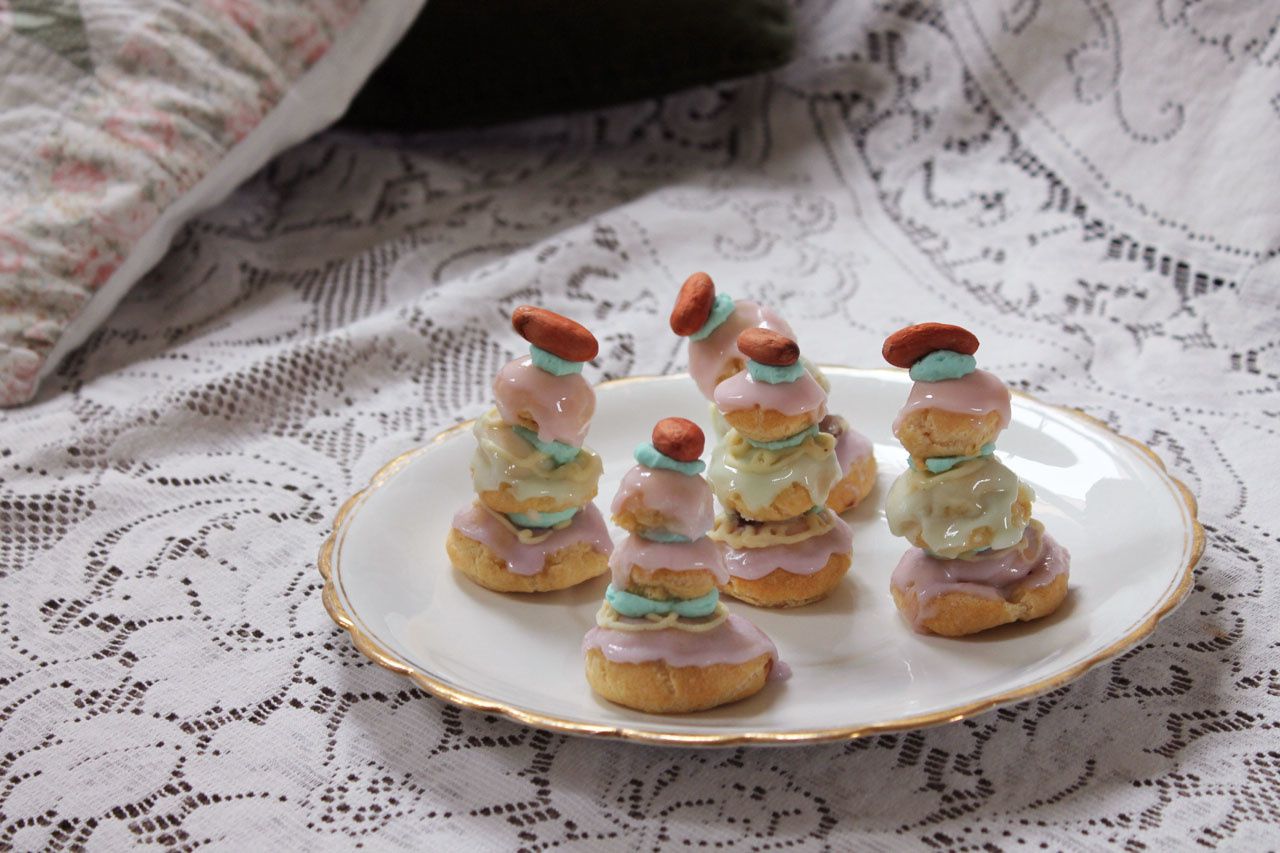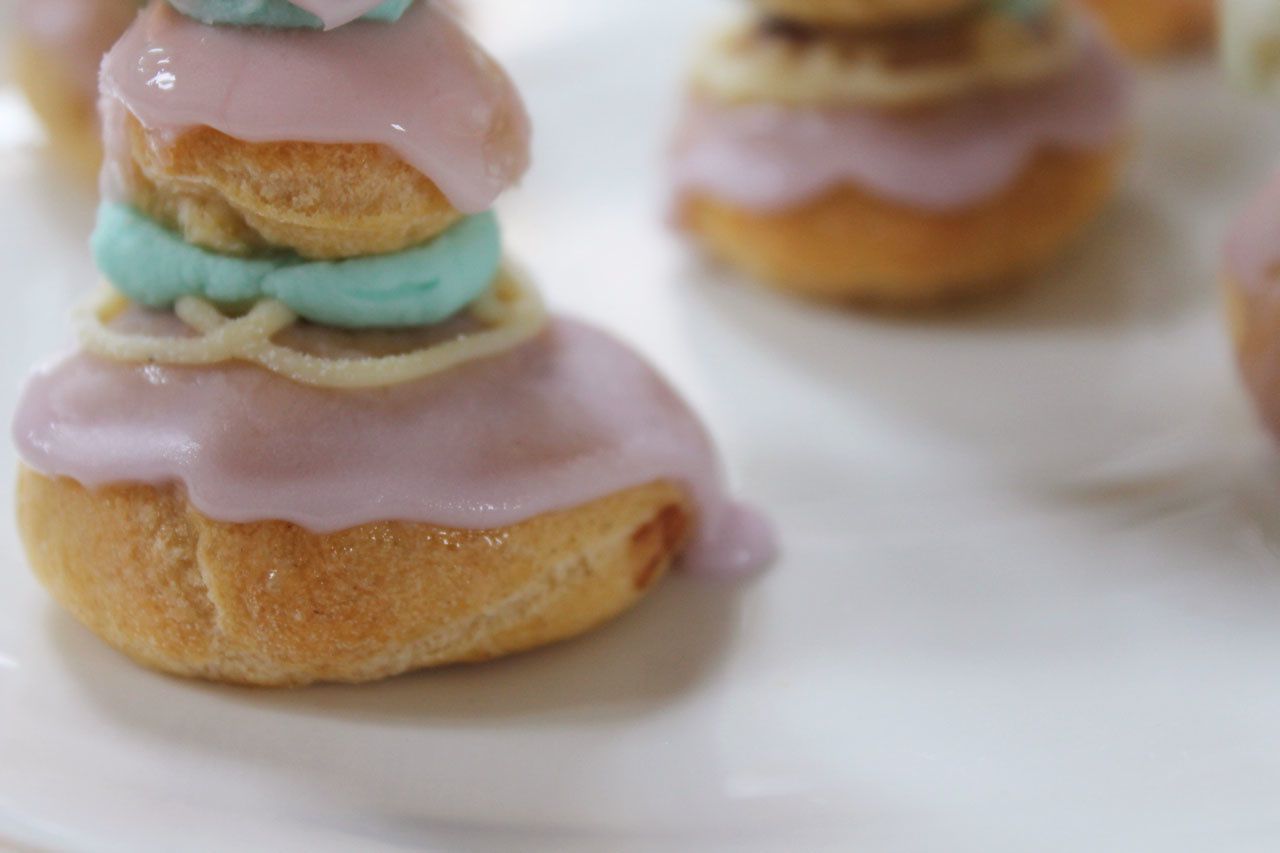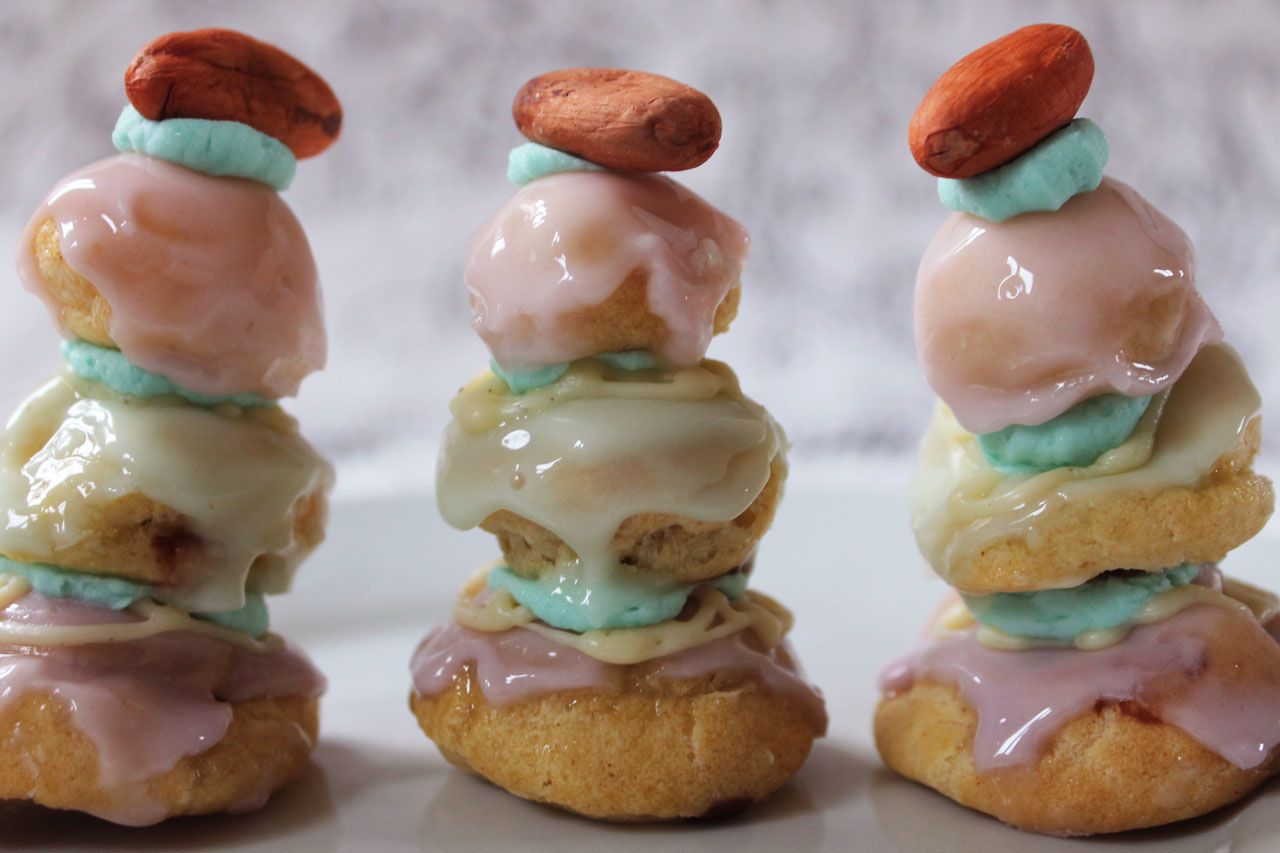 //
My lovely friend Abby and I baked Courtesans au Chocolat, following the recipe created for the film The Grand Budapest Hotel. It was long but definitely worth it. Aren't they lovely?
xo