Santa baby, slip a sable under the tree, for me
Been an awful good girl, Santa baby,
So hurry down the chimney tonight.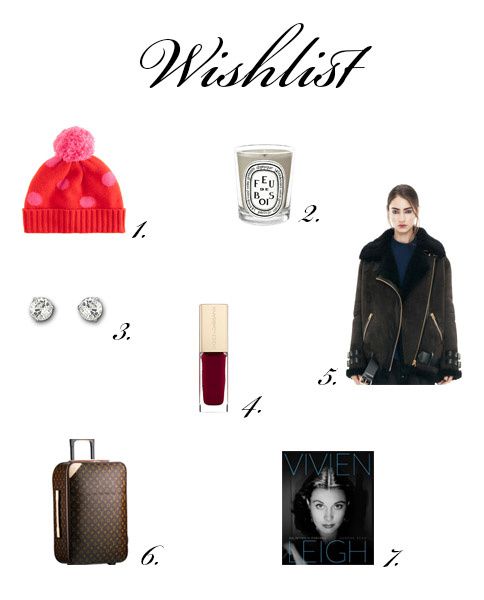 1. Cashmere hat, J. Crew. 2. Candle "Feu de bois", Diptyque. 3. Solitaire earrings, Swarovski. 4. The Nail Lacquer, Dolce and Gabbana. 5. Shearling jacket, ACNE. 6. Pegase 45, Louis Vuitton. 7. Vivien Leigh: An Intimate Portrait, by K.Bean.
This is the ultimate list. There are many (many) things I want. I know it sounds awfully materialistic and I am working on it. But still, it's Christmas after all :-)
Sooo, this cute hat (no. 1) is pink and made out of cashmere which basically means perfection to me. Plus, it would go so perfectly well with my dream coat (no. 5). It's been haunting me for weeks now, and I wish I could afford it. I've even thought of getting a credit card, just to buy it which means something! (I usually don't believe in spending the money you don't have). The solitaire earrings would complete the outfit by bringing a little sparkling touch. Simple but effective (no. 3).
I've also always wanted to try a Diptyque candle, so here you go (no. 2). Plus, I love the smell of a fire place <3 And what's better than to read next to this pretty candle? Vivien Leigh is one of my favourite actress of all times, so I would love to know a bit more about her. (no. 7).
Finally, a beautiful Louis Vuitton suitcase to travel in style with (no. 6). I would carry it with perfectly manicured hands, thanks to this elegant bordeaux nail polish. (no. 4)
What's in your wishlist?
//
Ceci est la liste ultime. Il y a beaucoup (trop) de chose que j'aimerai avoir. J'ai bien conscience que cela fait de moi une horrible matérialiste (et j'ai l'intention d'y travailler), mais c'est noël après tout, non?
Donc, ce joli petit bonnet (no. 1) est rose et en cachemire. Ce qui en fait le meilleur des bonnets. En plus, il irait tellement bien avec le manteau de mes rêves (no. 5). Celui-ci me hante depuis des semaines. J'aimerai tellement pouvoir me l'offrir! J'ai même envisagé la possibilité d'obtenir une carte de crédit, juste pour pouvoir l'acheter, c'est vous dire (ma philosophie est de ne pas dépenser l'argent que je n'ai pas). Les boucles d'oreilles en cristal Swarovski (no. 3) compléteraient cette tenue par une petite touche de sparkling. Simple mais efficace.
J'ai toujours voulu essayer les bougies Diptyque, donc j'ai choisi celle qui sent le feu de bois. (no. 2). Et quoi de mieux que de lire, à la lueur de cette bougie, un livre dédié à l'une de mes actrices préférées: Vivien Leigh? (no. 7)
Enfin, une petite valise Louis Vuitton (no. 6). C'est le must pour voyager stylé. Je l'emporterai en voyage, et mes mains seraient parfaitement manucurées avec ce joli bordeaux. (no. 4).
Que contient votre wishlist?